I can't believe I haven't done a post on all things home decor yet! My home is my absolute sanctuary and it has always been so important for me to have my space decorated almost immediately after I move in (and hint: I move a lot). But the thing that has been top priority to me throughout the years when finding decor for my home, is budget. I have to say, one of my favorite things about our generation (or trends? or Amazon?) right now is that you can find some great, cute, quality home decor items without breaking the bank!
Before I was married I went as feminine with my home decor as I could because I knew that period of time in my life was fleeting. I did the gold, the glam and the vogue to the nines. Although my style is very different now (and I now live with my husband) I am so thankful for that time because it gave me the opportunity to grow and learn what my style was no matter what was in style. It also taught me to budget. I went from living in my parent's house, to being in college and living with roommates, to living with my best friend for years, to living by myself as a young professional, to getting married and living with my husband! For some time, I just recycled my same decor year after year and updated bits and pieces as time went on, as trends changed and as I changed. But one thing that I learned is I don't tire of my home decor pieces very easily because: a.) I am intentional with what I purchase and b.) budget has always been at the top of my mind.
Enter: our current home. We are renting this gorgeous little home in the Arcadia area in PHX and it is the perfect size and fit for everything we need right now in life. We don't have babies yet- it's just me, my husband and our two fur babies! It is a 2 bed/2 bath home and about 1400 square feet. This is a lot larger than the one bedroom apartments I've been accustom to decorating in the past! So once we signed on to rent, I was SO excited to be able to decorate every inch of it. Even though it is temporary, it is still our home for a year and I am going to make it feel cozy af while we have it!
I will break down how I did each room in another post soon, but as for now I will share my favorite rooms and where I purchased each product!
The Dining Room/Entry Room
When we first toured this house I was soo boggled as to how to decorate this random front room that older homes often have. It would be weird to make it an additional family room, but a seating area seemed to bland and not useful. That's when my husband came up with the idea of making it into a dining room! I wanted to make sure not to make it too stale and still feel like a cozy room in the house, so I threw in some warm tones, a gallery wall, a jute rug and a faux olive tree.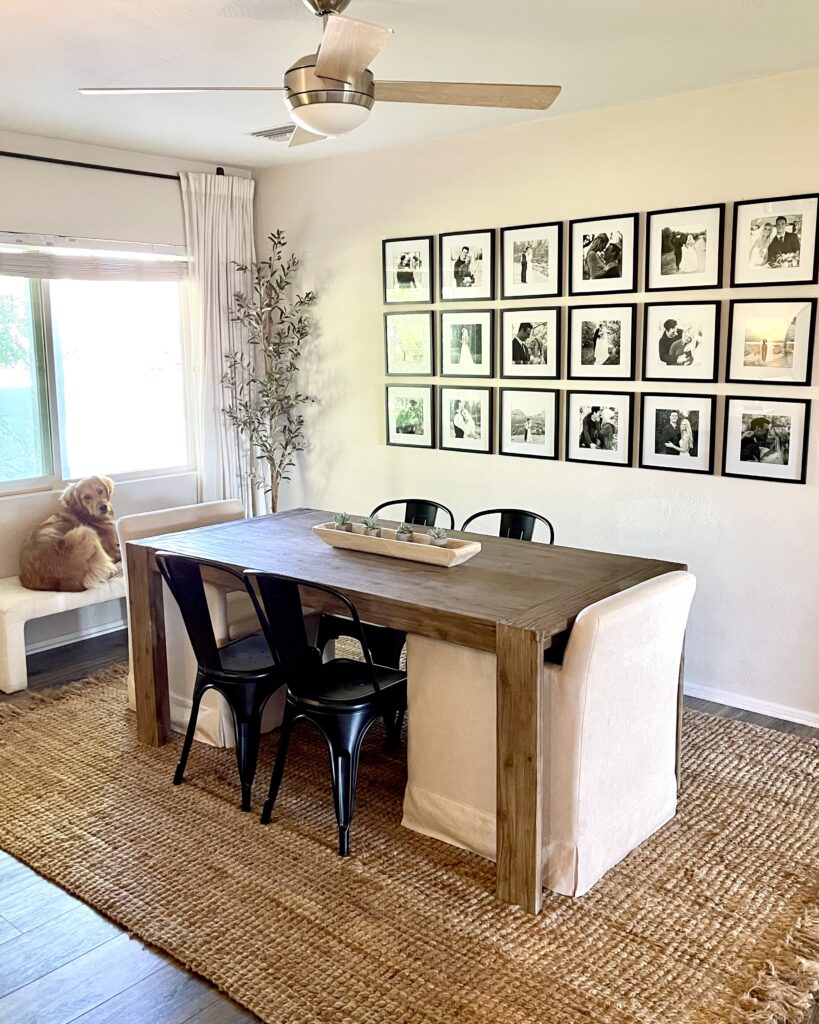 The Family Room
I wanted something light, beachy and neutral for our family room while still incorporating some big furniture pieces that we already have.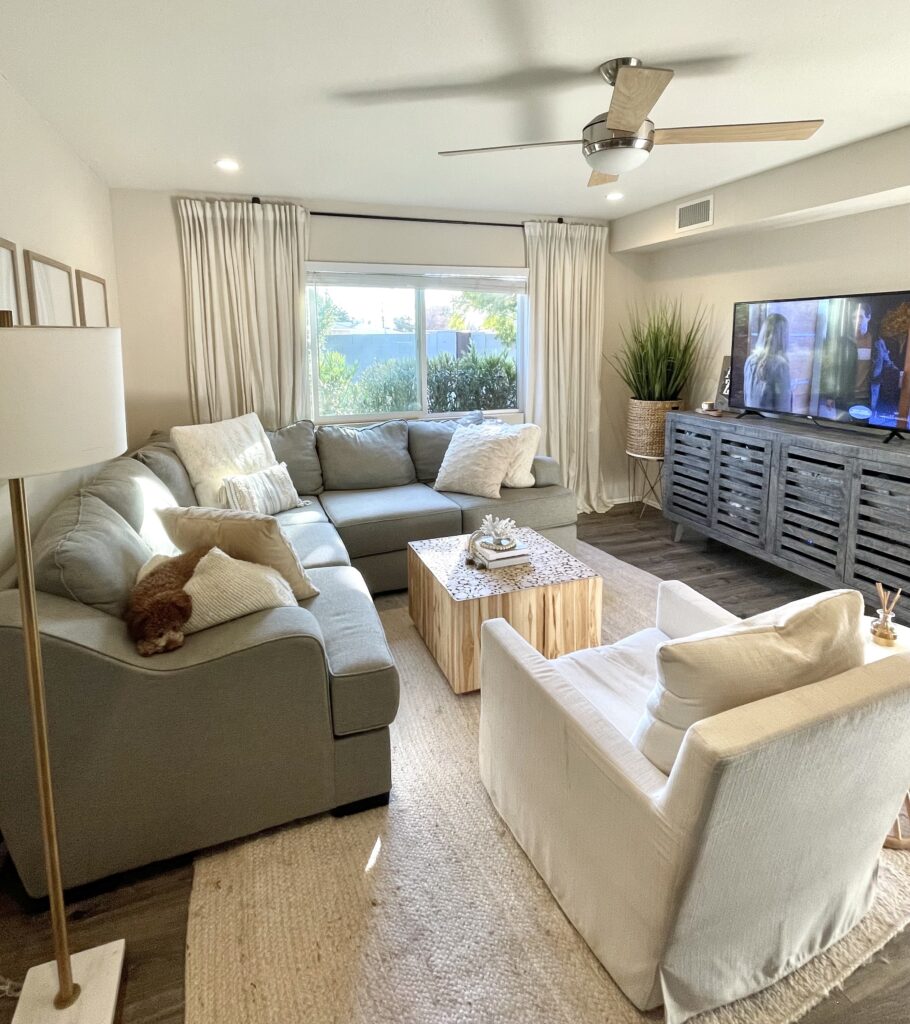 The Office
We turned our extra bedroom into an office, but I realized quickly that I spend so much time in an office at work, that when I get home I sit anywhere except the office! Since moving in, it has also been turned into a workout room, yoga room, etc.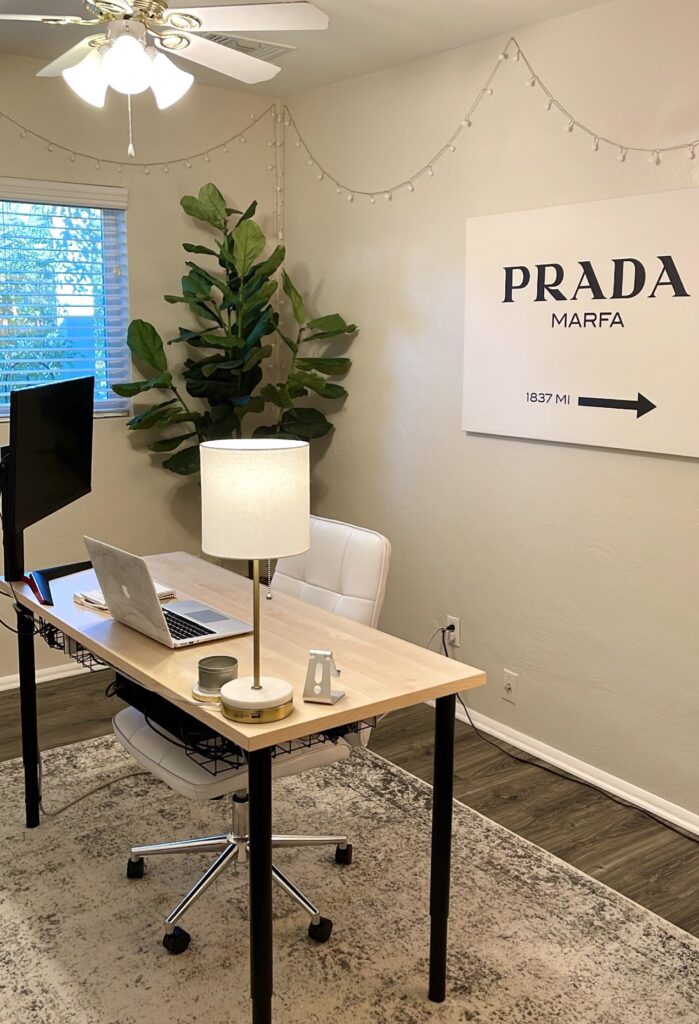 The Bedroom
This home's primary bedroom is the best because it is two bedrooms combined so it is super large and has a great closet, but with that comes naked, somewhat awkward space to fill! I didn't want our room to be cluttered, but I did want it to be cozy, so after some trial and error, I figured out a way to fill the corner with both useful and trendy home decor. My most popular reel was in this room- how to decorate a corner.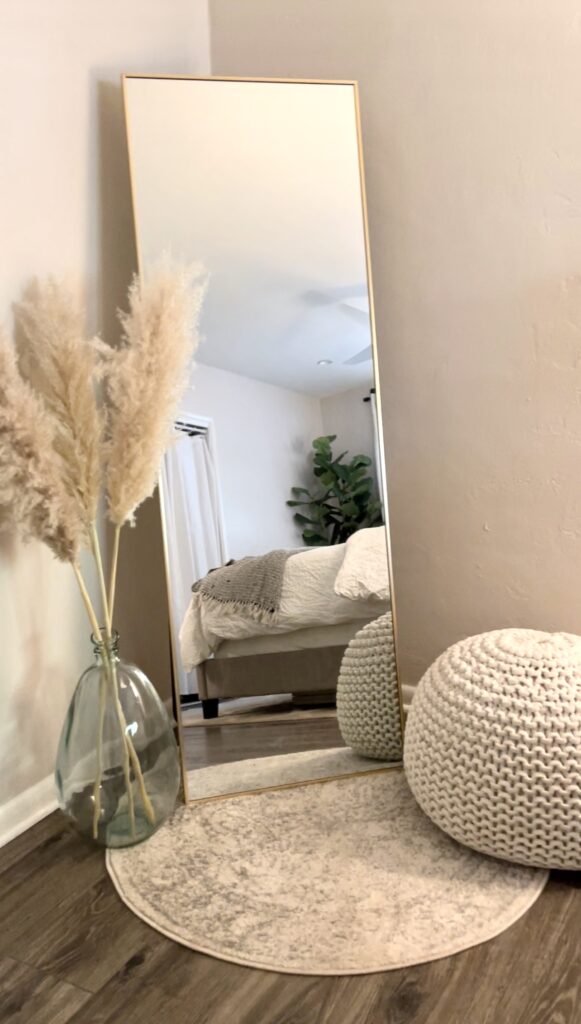 I picked out everything in our home piece by piece and I am so happy with how it all turned out! I hope you love it and I hope it inspires you when decorating your home! Note: If you follow me on instagram (if you don't, you obvs should: @abriellesays) you know that we have run into some problems with this house we are renting and have to move soon. I am so sad, because I absolutely adore it, but you gotta do what ya gotta do. More home posts coming soon!
xx