Hi Friends! I come to you this morning with under eye masks in place, a bun on the top of my head, a messy house, the same sweatshirt I've worn all week, a cup of coffee bigger than my head and an even bigger to-do list. If you are anything like me, you are running around last minute, day before Christmas, trying to get all of your gift and grocery shopping, wrapping, decorating, and on and on done. If you have read any blog post of mine, I think you can tell I am a huge fan of Amazon. It is convenient, timely and all at your fingertips. a.k.a. it is SAVING my peach this time of year. For my fellow last minute–rs, I threw together a modge podge list below of gifts you can still order today with guaranteed arrival before Christmas (same-day delivery) if you order over the next couple of hours! Happy shopping!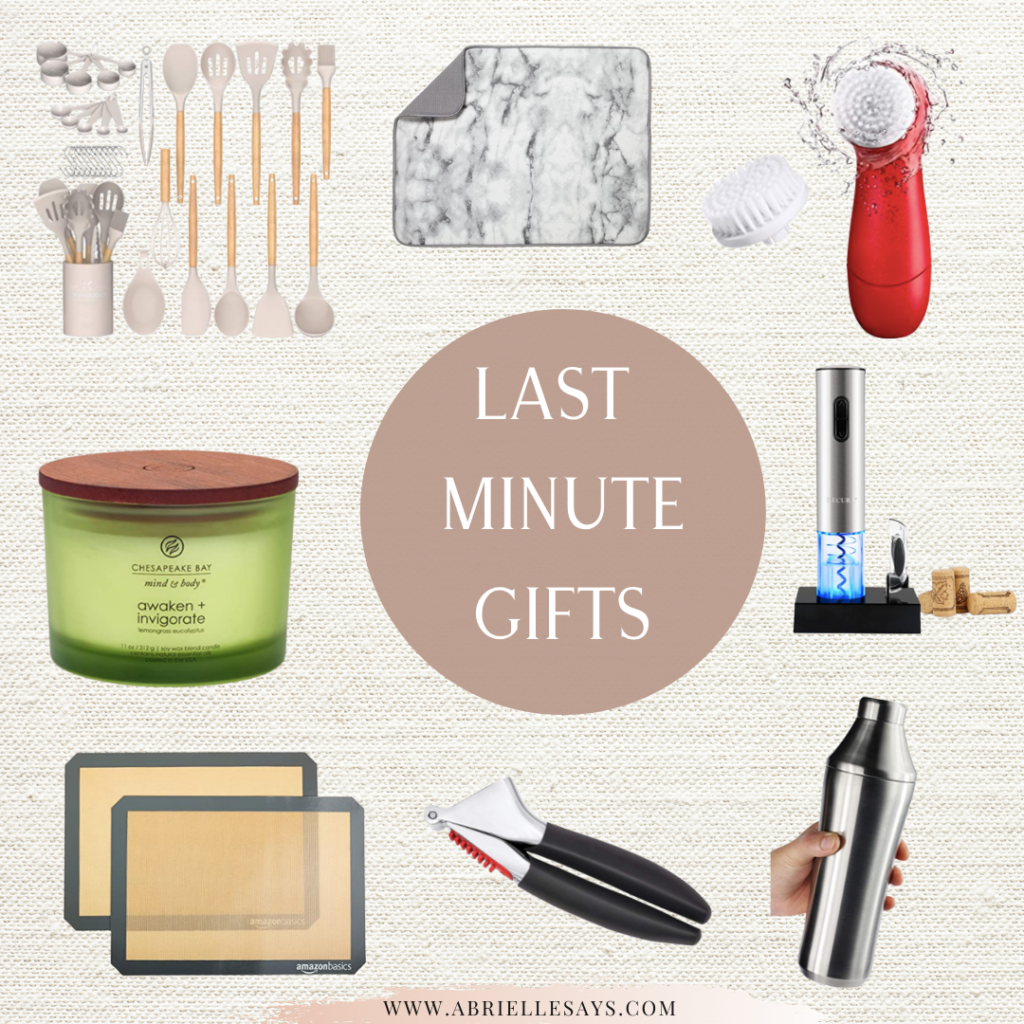 Product Breakdown (clickable links)
33 piece Kitchen Cooking Utensils Set. This set has everything the kitchen lover in your house needs plus it's cute and trendy!
Marble Dish Drying Mat. I have this exact one and love it! It comes in a million colors.
Facial Cleansing Brush. This is the closest thing to a PMD beauty cleaner I have found, and it is avail for same day delivery today!
Chesapeake Bay Candle Scented Candle, Awaken + Invigorate (Lemongrass & Eucalyptus). Anyone loves a good candle. I might be biased, but the scent that is guaranteed delivery today is a combo of my FAV two scents- lemongrass (YUM) and eucalyptus.
Electric Wine Opener. This is the perfect gift for the wine lover in your life. I have this and my favorite part about it is that you can get a TON of use out of it between each charge. I've had it for a couple of years, love wine, and have only had to charge it max 4 times.
Non-Stick, Food Safe Baking Mat. I use these for all things baking related! Throw away the parchment paper or non-stick spray, roll one of these out on your cookie sheet before you throw them in the oven and it makes clean up a dream.
OXO Good Grips Garlic Press. If you don't surround yourself with garlic lovers, I have questions. lolol This is a great little stocking stuffer idea.
Craft Hybrid Cocktail Shaker. One of the best for the craft cocktail lover in your life! Or just for an addition to your bar cart.
210-Piece Household Tool Kit. For the mans in your life whether it's your hubs, bf, dad or brother, I can't think of a better last minute all-in-one gift than this one.
REVLON Hair Dryer Hot Air Brush. If you type this into google you will see it EVERYWHERE. I bought it last year and haven't looked back. It's the perfect inexpensive version of the Drybar hot hair brush.
Neutrogena Hydro Boost Face Moisturizer Gel-Cream. This face lotion is fabulous! I use it morning and night- It's nice and light.
Finishing Touch Flawless Women's Painless Hair Remover. This would be a great little stocking stuffing for mom, sis, etc.
Ice Roller for Face & Eyes. I LOVE THIS. I keep it in the freezer year round and take it out in the morning and it de-puffs my face and reduces redness. This was the main gift I gave two years ago to all the gals in my life.
Nonstick Bakeware, 6 Piece. For the baker in your life!
DEWALT 20V Max Impact Driver Kit, 1/4-Inch. For your mans.
UV LED Nail Lamp. I use this every time I do my at-home gel nails. It's the best one I've used to date! 10/10 recommend.
Amazon.com eGift Card. Can't go wrong with this. If anyone reading this doesn't know what to get me ever (hi mama!), Amazon gift cards are always a safe an appreciated bet. 😉
Hopefully these same day delivery gift ideas help you get all of your Christmas gifts in time for the big day tomorrow! And don't forget to give your amazing Amazon delivery drivers a little extra love whether it's leaving a note or just saying thank you with a wave! They are working on their holiday too! Happy shopping and Merry Christmas!