Hey, PSA: It is still year 2021…imagine that? Tired yet?
Now, I will be the first to admit that I created some bad habits with all of the time at home in 2020 and some of them carried over into 2021…i.e. my workout and sleep regime are a bust, uncomfortable shoes- no matter how cute- are no longer an option, what are pants? and having an online shopping addiction is real…especially when it is right at your fingertips…Oh and did I mention next day delivery right to your doorstep???? AMAZON WHY-DO-YOU-FAIL-ME (jk ilysm bb).
I won't lie…on average as of late I get that little notorious amazon knock on my door at least three times a week. I can't seem to stop buying things I "need." Oh? lavender pillow mist? purchased. Milk frother?? done. Posture corrector?? sure, needed. My poor husband LOL
But all jokes aside, amazon is the sh*t. It has everything I could ever "need" and I am here for every last bit of it. Hence there being a "pt. #" in the title…
So, I figured I'd kick off my amazon must-have series with something we all need rn: self care & good sleep. I swear by these sleep necessities and hope they will also bring you some restful zzz's.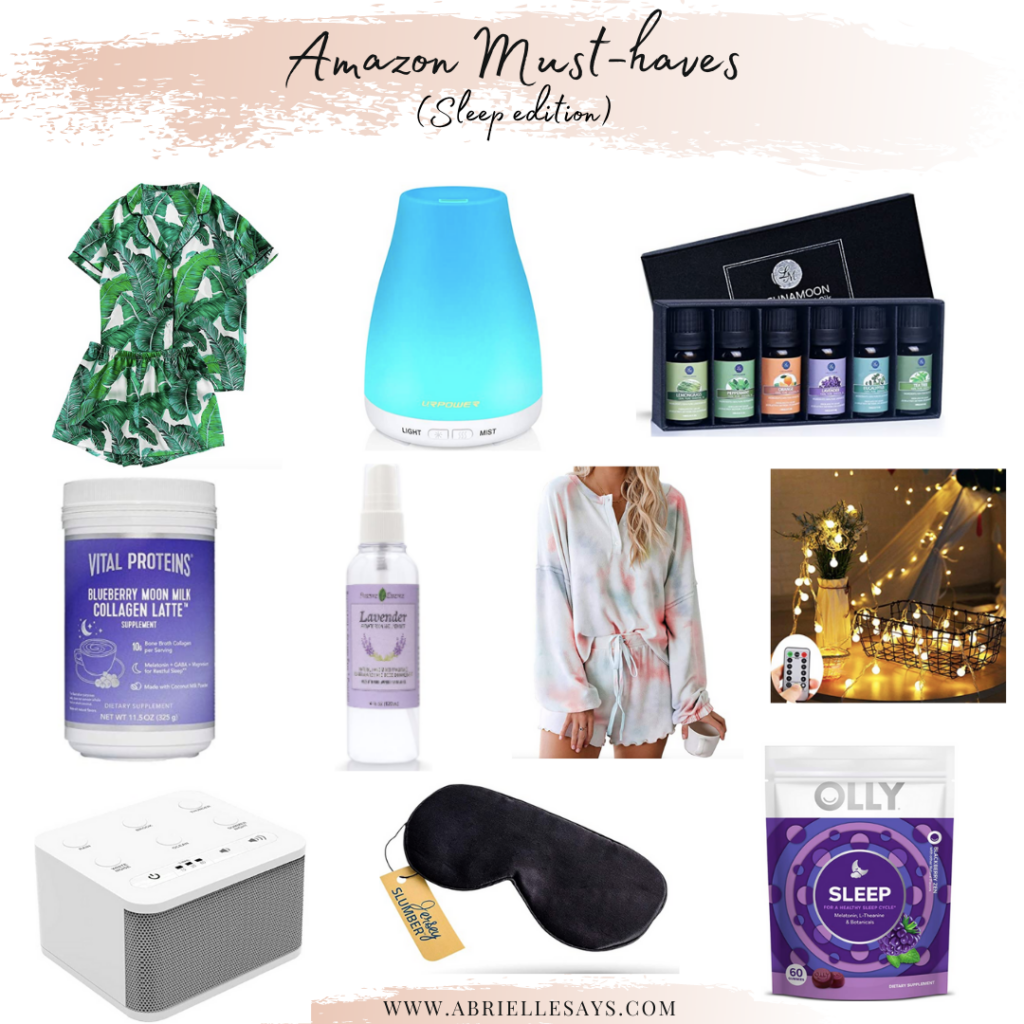 Product Breakdown
The BEST silk pj's. They restock colors/sizes often and they are so soft and fit perfectly. I have the pink leopard ones & want the green palm ones (pictured above)! I would size down.
Oil diffuser. I love this one because it is a such a cute, portable size. I literally use it every day on my desk!
Essential oils. These are what I use, but have also used doterra, etc. These are inexpensive and their lavender scent is calming at bedtime (or during a stressful work day).
Vital proteins. I love vital proteins, collagen and Organic ashwagandha root extract- can't go wrong. I also like to throw 1 or 2 tablespoons of apple cider vinegar with hot water and honey in a mug and sip then while I'm winding down in bed- yummm- puts me right to sleep!
Positive Essence Lavender Pillow and Room Spray. You know the dad in My Big Fat Greek Wedding that sprays windex on everything?? That's me with this spray. I keep this on my nightstand and spray it on my pillow and sheets every night and it smells AMAZING. 10/10 rec.
Tie Dye Lounge set. Tie Dye is all the rage- and like all trends, it's fleeting, so why break the bank on it? This set is so cute, affordable and SOFTTTT AF. I switch between these and the silky ones I listed above.
Twinkle lights. Ty and I both love pretty twinkley string lights everywhere. They are such an easy way to warm/cozy up any area.
Sound machine. My sis put me onto this sound machine because it was the only thing that would keep her sweet babies asleep (my nieces are life) and ever since I got it I can't part with it. I sleep with it every night, bring it on vacation, camping, etc. you name it! Takes batteries or wall plug.
100% Silk Sleep Mask (With Adjustable Strap). When Ty and I had to unexpectedly move a billion and one times (thanks a lot, COVID), we found ourselves at an adorable little long stay air bnb that happened to have barely any window covering. These masks were a need and they did not disappoint. Blocked out full morning sun for a better sleep (in).
OLLY Sleep Melatonin Gummy. I will buy Olly everything. I have used their probiotics, multi-women's vitamins, etc. and they are fabulous. Melatonin is a natural way to calm your body and mind into a good night's sleep.
Rest easy, my friends!