Makeup?? What's makeup? <<< Everybody currently mid-COVID-19 quarantine. All who haven't gotten out of their sweatpants in a month and a half say "aye". Aye!
The perks of it though?? I actually had time to make this updated everyday makeup routine how-to video. Yay!
I usually try not to cake on the makeup every day. Not only is my hubby not a fan (but let's be honest girls…we don't do it for them) but I also like to let my skin breathe. Not to mention, when I do pack it on, by the end of the work day I usually look like some off-brand version of Dracula. No thanks!
The Low down.
I have always believed that in another life I would be both the soul sister and equivalent of James Charles on Youtube with my makeup skills. I just love makeup and how it can transform any individual. I went through a huge Kandee Johnson phase (is three years still considered a phase??? Asking for a friend) through college and asked only for new and exciting urban decay palettes for each and every holiday. I spent HOURS playing with the beautiful, sultry colors.
…but alas I have been given one life. So here I am, just a girl standing in front of a mirror asking her to color correct my under-eye bags allowing just enough time to pop a protein waffle in the toaster before I rush out to work. 😉
So let's get to it. My favorite products: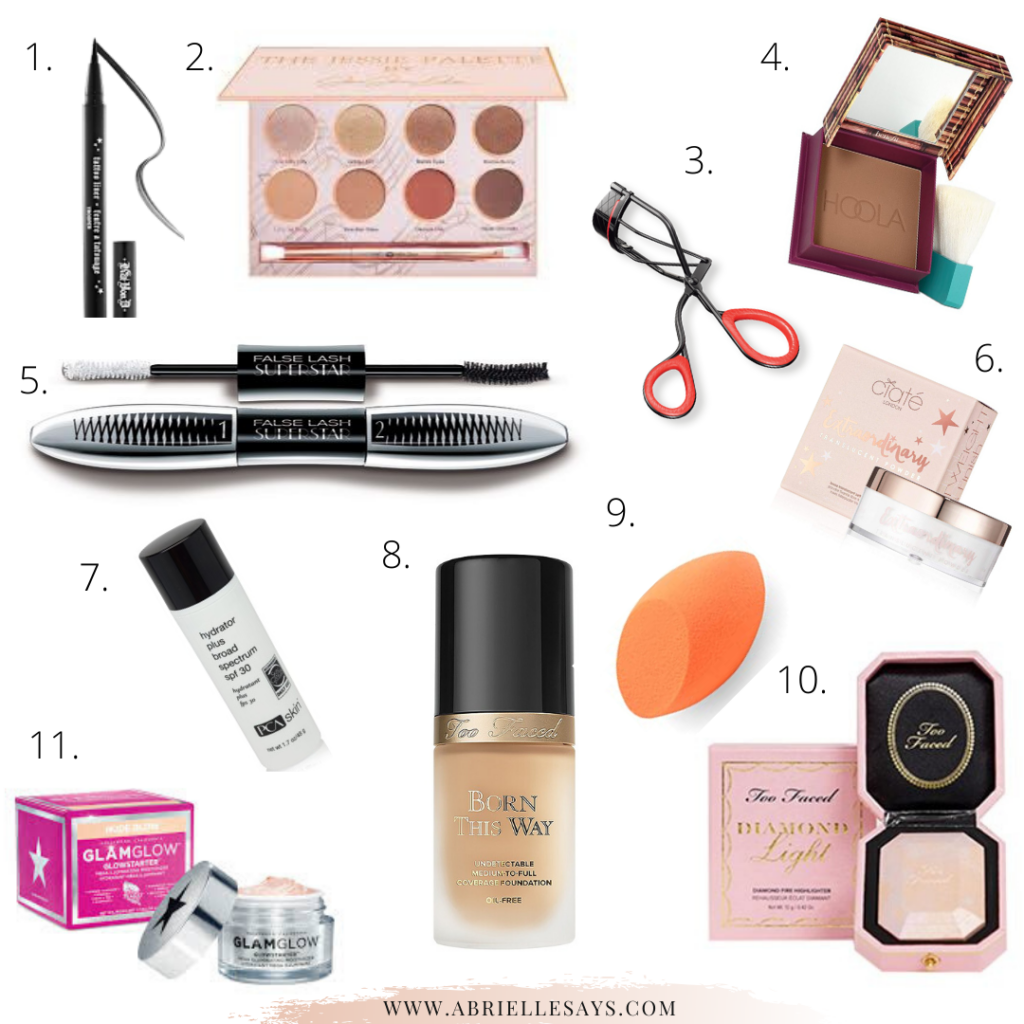 KVD Vegan Beauty- Tattoo Eyeliner
Jessie James Decker/Alexa Persico Cosmetics eyeshadow palette
Revlon Eye lash curler
Benefit's Hoola Bronzer (hands down, the best)
L'Oreal Paris voluminous superstar mascara (my OG- been using since 8th grade)
Ciate everyday vacay coconut setting face powder (smells amazing too)
PCA Skin SPF 30
Too Faced Born This Way Foundation (medium coverage)
Too Faced Diamond Light highlighter
GLAMGLOW GLOWSTARTER Mega illuminating moisturizer
With A Good Makeup Brush, Every Woman Can Be An Artist!
How to video: