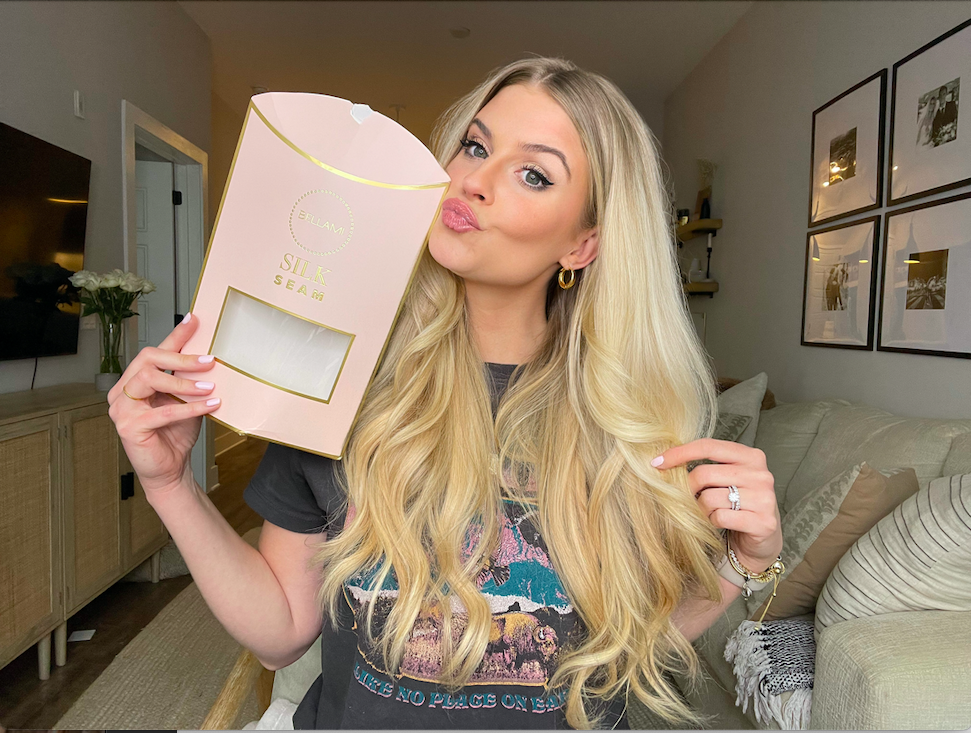 Anyone else remember those little scrunchy hair pieces that you would tie around your bun to give it a more voluminous look circa early 2000's?? Pretty sure I had one in every single shade of blonde that was sold! I've always loved doing hair and have played with fun hair pieces since I was in elementary school, but my true love for hair extensions really came about when I got mono in college. I lost sooo much hair and was absolutely devastated. Enter: Bellami hair. These clip-in hair extensions completely changed the game for me- not only with my hair health, but with my confidence. I would almost go as far as to say they single handedly got me through mono (+ doctor prescribed throat steroids lolol).
Since college, I have worn them off and on- especially during my ~TV era~. Then I got my hair healthy again and didn't need them as much, but now I wear them for fun whenever I need a little extra zhuzhing to my hair style. The quality of Bellami hair is barre none. I have tried a million different brands over the years and have yet to find hair wefts that have as much hair and volume as bellami. Not to mention, they have lasted me for years and years. This isn't even an ad or paid post- this is my genuine opinion (although they were kind enough to give me a code for $ off for my loyal readers!- ABRIELLE10).
I have received SO many questions on my hair videos on hair extensions- what kind I use, how to put them in, what length, color, etc. so I thought compiling a FAQ list & tutorial all in one place would be best!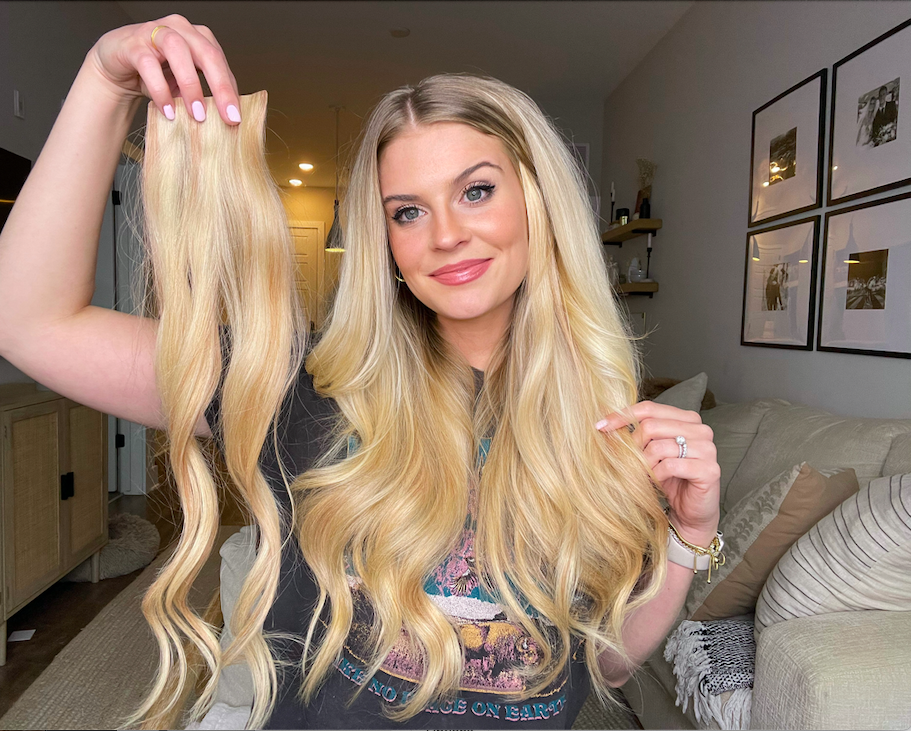 Hair Extensions FAQ
What brand/color hair extensions do you use?
I currently am wearing Bellami Silk Seam 180g 20 inch in "butter blonde." I have also used "Ash blonde" 22 inch Bellami "bellissima" 220g when my hair was more of a platinum blonde.
Can you use hot tools on hair extensions?
YES! Depending on what extensions you get, if they are high quality like Bellami, they are 100% human hair- so you can do whatever you do with your normal hair to your extensions. With that being said, a good heat protector spray is crucial to extending the life of your extensions.
Can you wash your extensions/do you take them out to wash?
Yes, can wash them! You just want to avoid shampoos with sulfate in them as it can be harsh on the hair. I use an extension-friendly shampoo! As for how to shampoo them, I remove them from my hair beforehand because I don't want them to pull out my natural hair at the roots, clip them all together at the clips, then wash them in the sink. A little trick I have is once they are washed, I towel dry them then close my cabinets on the clips and let them hang so they will stay in place while I brush and dry them. Works like a charm!
How often should you wash extensions?
As much as I love me some clean, fresh hair, only wash them when they absolutely need it! Since they are not attached to your scalp, they don't receive the oil that your natural hair does meaning they don't need to be washed as often.
Can you color extensions?
So I am def not a hair professional, but considering your extensions are real color treated human hair, you can color them! I would just 1000% recommend talking to your hair stylist about it and having them do it, because it would be such a bummer if you ruined your gorgeous, expensive hair trying to alter the color yourself.
How do you put extensions in?
There are many different kinds of extensions that range from tape in, to bonded, clip-ins (what I use) and halo. The tape in and bonded hair extensions usually require a professional, but as for clip ins, they come with little flat clips sewn on the hair extension root and they grip you hair like a mini comb clip and then snap into place. To remove them, you just place your index finger and thumb on either side of the clip and press- they then pop right off! Halo extensions are just what they sound like- they are attached to a very fine string that can be placed on your head like a halo and then you can pull your hair over them to blend!
How long do hair extensions last?
This completely depends on how well you care for and maintain your extensions, but I have some hair extensions that I have had for upwards of ten years…yes, ten years! I am always mindful of maintaining them. I brush them so they don't get ratty, I don't sleep in them and I keep them on their hair hanger or hair bag (this has saved mine because I travel so much)!
Are they worth the money?
Once again, that is totally up to you and where you are financially, but if you are interested in getting some I would 100% recommend splurging on GOOD QUALITY ones like Bellami. Look at it as an investment. There has been more times than I can count when I took the cheap route with items (i.e. jewelry, clothes, extensions) and ended up basically spending double the amount within a couple of months because I just didn't want to just splurge on quality upfront and the cheaper version fell apart.
Also- this wasn't a question, but throughout the years I have run into some back and forth on the topic of extensions and transparency. My philosophy on this (& everything) is transparency is queen! It has always blown my mind when someone was sheepish about the fact that they wear hair extensions! In my mind, wearing hair extensions is as normal as wearing makeup- a little enhancement to your look that can go a LONG way. Show them off! I also am a firm believer that if someone is "envious" of your hair, give them the opportunity to realize that they too can have hair that is gorgeous and long and thick if that's what they want! Lord knows my hair doesn't naturally look like this! 😉
Anywho, I threw together a video below pertaining to all things extensions- how to put them in, what color I use, etc.:
I hope I answered all of your hair extensions questions, but if I forgot something, please let me know in the comments below or shoot me a message- I would love to hear from you!!
xx A