I think it goes without saying, hair loss sucks no matter the circumstance. Whether you are going through chemo, experiencing postpartum or mono got the best of you (it me), looking in the mirror each day knowing what your hair once was and is no longer, can really take a toll on your self esteem.
Going from the person who was hesitant to even get a trim because I loved my long, blonde hair, to losing both 80% of my length and volume over the span of a couple months was ROUGH. During this time, I was sick as a dog, starting a new job, not sleeping well and on steroids to "kill" the mono. All of these most likely contributed to hair loss, but the good thing that came out of the whole situation was that I finally learned how to properly care for my hair!
When I got out of TV (where I got 180% ready every day), I vowed to myself that I was going to spend the next six months really going all in on my hair care routine. I didn't use any heat, I stopped getting highlights, I threw away all of my cheap shampoo and conditioner, I didn't wear my extensions and I started incorporating vitamins, deep conditioners, scalp exfoliants and the real saint: Olaplex.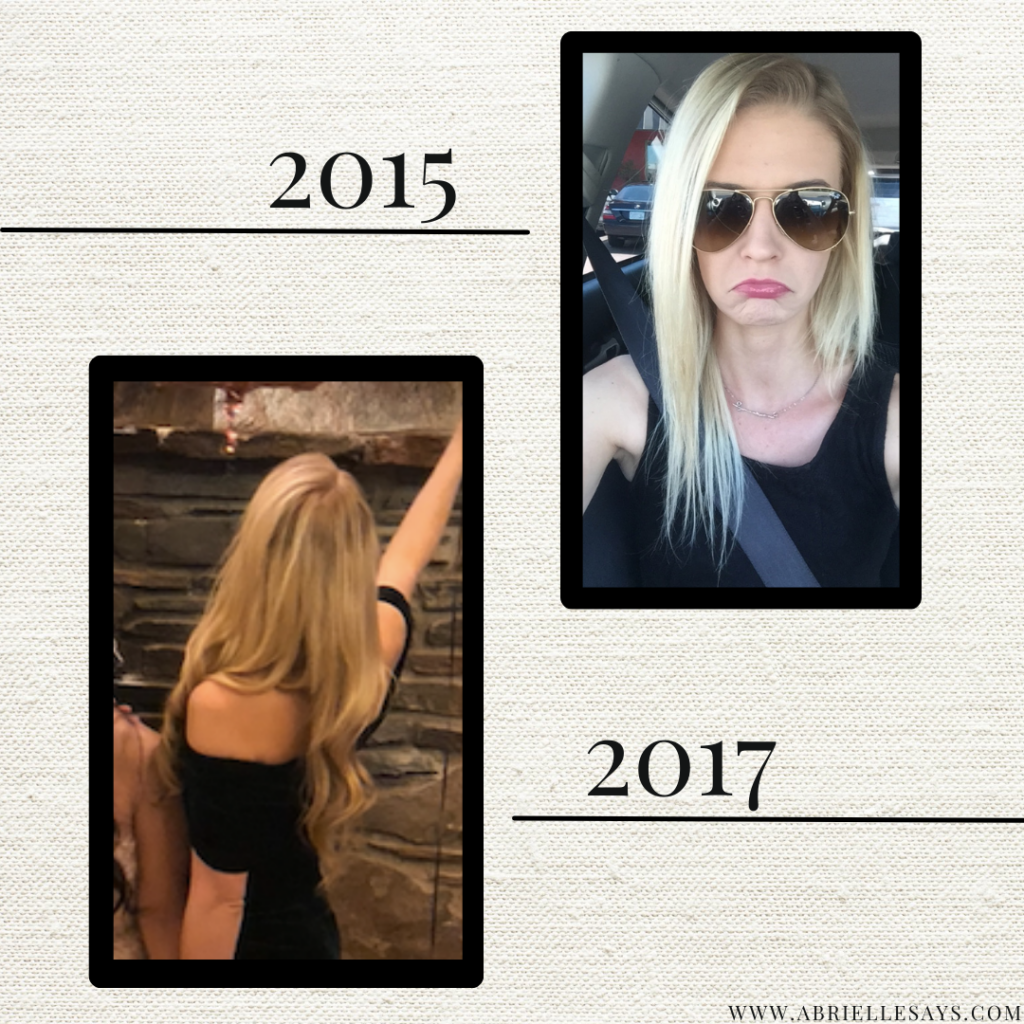 The Journey to Healthy Hair…
First things first, be patient. I remember when I got Mono a friend told me that her hair didn't come back for years afterwards…when she said that, my mouth dropped open in disbelief. But unfortunately, it turns out she was exactly right. That doesn't mean that you have to lose hope though. Each day you care for it properly, it will get better and better and all the little steps will feel like big steps until you look back and realize how far your little hairs-that-could have come.

Use good, clean products! Ditch the drugstore shampoo and conditioner. I know they smell good and are usually cheap, but most of these products absolutely tear apart your hair and strip away all of your natural oils. An amazing hair stylist in Scottsdale introduced me to Awapuhi color-safe, sulfate-free products and I've never looked back!

Try to avoid pulling your hair back tightly in a bun or ponytail as much as you can. If you need it out of your face while you sleep, you can do it in a low, loose braid. You want to avoid breaking your little baby hairs trying to grow in as much as possible.

Take your vitamins & supplements! Collagen and Biotin are both very important steps in getting your hair back. Let's start with collagen…the benefits of this magical supplement are endless. From supporting healthy hair, skin, nails, bones and joints, to supporting skin hydration and elasticity- it really is an all in one. I either blend the collagen powder into my morning smoothies or stir it into my hot coffee each day. As for Biotin, same story there. It supports your liver, nervous system, hair, eyes, and more. Can't go wrong with incorporating either one into your every day routine!

Brush and exfoliate your scalp. Fun fact: brushing your scalp can help stimulate blood flow and also helps spread our sebum (oil) to the rest of our hair moisturizing it. As for exfoliation, much like your face, exfoliating your scalp lifts away impurities and buildup from hair products, and is proven to increase scalp hydration. I included a really good, clean product at the bottom of this page!

Use a satin pillow case. If you have never tried one of these, you are in for a treat. Not only is it incredible for your skin, your hair is the real winner here! The benefits: fewer tangles, frizz protection, hair breakage prevention and the list goes on!

Use heat protection. I made a choice to avoid heat completely for six months, and it truly made such a difference for me, but if you don't have that luxury, absolutely use a good heat protector on your hair. Spray it before you blow dry and then before you curl, straighten, or style it.

Last, but CERTAINLY not least- use a hair mask weekly! Do not skip this part. First things first, I 1000% recommend investing in some Olaplex #3 (Dae is a close second). Ditch the directions and each week (I chose Sundays) lightly wet your dirty hair, brush it out, slather Olpalex on from roots to ends and throw your hair in a loose braid and sleep with it in. I usually applied it early enough in the evening that it would dry a bit before bed so it wasn't bothersome while sleeping. In the morning, wash it out, shampoo and go on with your day. If you are consistent with this, I can guarantee you will notice a difference after a couple of months.
If you do these 8 things, I can truly say, you will notice a difference. Hair loss or thinning can be so difficult while you are in it, but I can promise you- it will get better! Shop the products I used in my hair journey below! xx